Styrian pumpkin seed oil can also be used for desserts: I used pumpkin seed oil for the cream of this delicious mascarpone cake. A very good idea!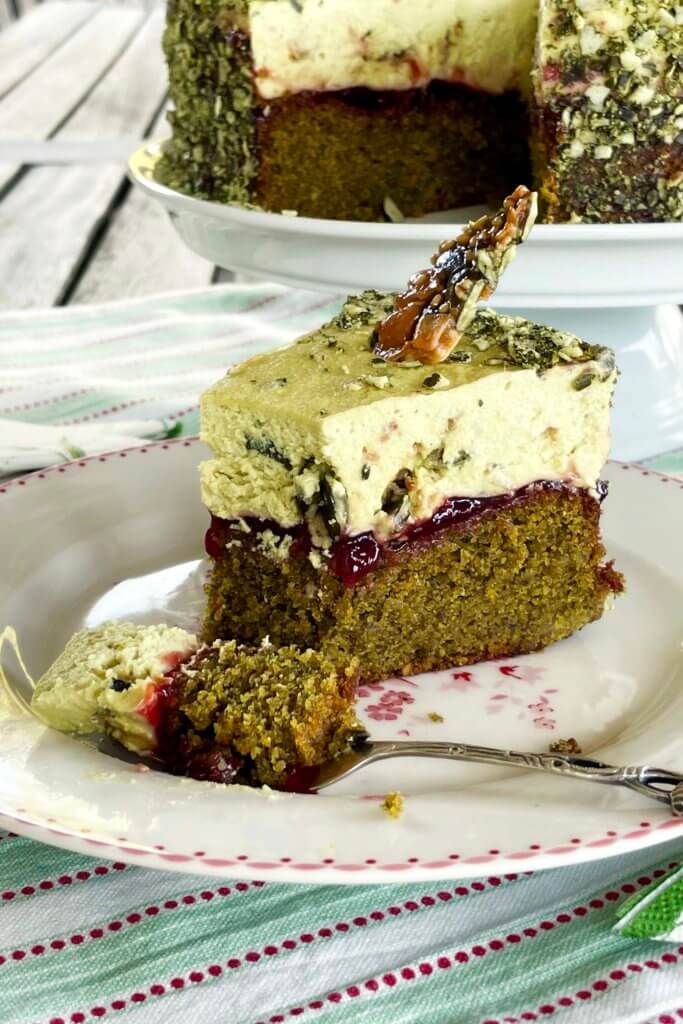 The pumpkin oil gives the mascarpone cream a light pumpkin seed oil green, as you see on the photo.
The very fluffy dough is also colored a little green by the pumpkin seeds.
This is an easy cake recipe.
Whether for Mother's Day or for Karin, your girlfriend.
I'm sure you'll agree: Both of them will be happy about this cake.
The perfect surprise for the next birthday.
There are many different recipes for mascarpone cream.
I think this variant with its nice green colour is the most beautiful.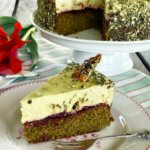 Print
Mascarpone creme cake
Ingredients
For the cake base
120

g

butter

120

g

sugar

4

eggs

110

g

pumpkin seeds

50

g

flour

50

g

pumpkin seed flour

1/2

sachet baking powder

1/2

tsp

Cinnamon

grated zest of one lemon
For the creme
70

g

sugar

250

g

sweet cream

500

g

mascarpone

3

tbsp

pumpkin seed oil

3

tbsp

rum

6

sheet og gelatine
Further
1/2

jar raspberry jam

100

g

Pumpkin seed brittle / optional
>> Webshop
Instructions
Preparation of the dough

Whisk the egg whites and set aside.

Cream the yolks with the butter and sugar.

Grind pumpkin seeds. Then mix together the pumpkin seeds, flour and baking powder.

Stir 1/2 the egg whites and flour mixture into the yolk mixture. Fold the remaining egg whites into the mixture by hand.

Pour the mixture into a buttered and floured cake tin, bake at 180°C for approx. 35 minutes and allow to cool.

Spread the hot cake base with raspberry jam.

Preparation of the creme

Whip the cream and set aside.

Mix the mascarpone with the pumpkin seed oil, rum and sugar.

Melt the gelatin according to the instructions on the sacket and stir into the mascarpone cream.

Fold in the whipped cream.

Break the pumpkin seed brittle into smaller pieces (set aside 12 nice pieces for decoration) and stir into the cream.

Fill the cream into the cake tin with the cake base. Chill in the fridge for at least 2 hours.

Remove the cake ring. Spread a thin layer of jam on the outer edge and sprinkle with ground pumpkin seeds. Finally, garnish the cake with the prepared pumpkin seed brittle pieces.
Notes
It is not necessary to use a round cake tin. I already baked the cake in 2 small loaf tins and then cut them into cubes - looks wonderful too.I used pumpkin seed brittle as a garnish, but of course you can replace it with another decoration.