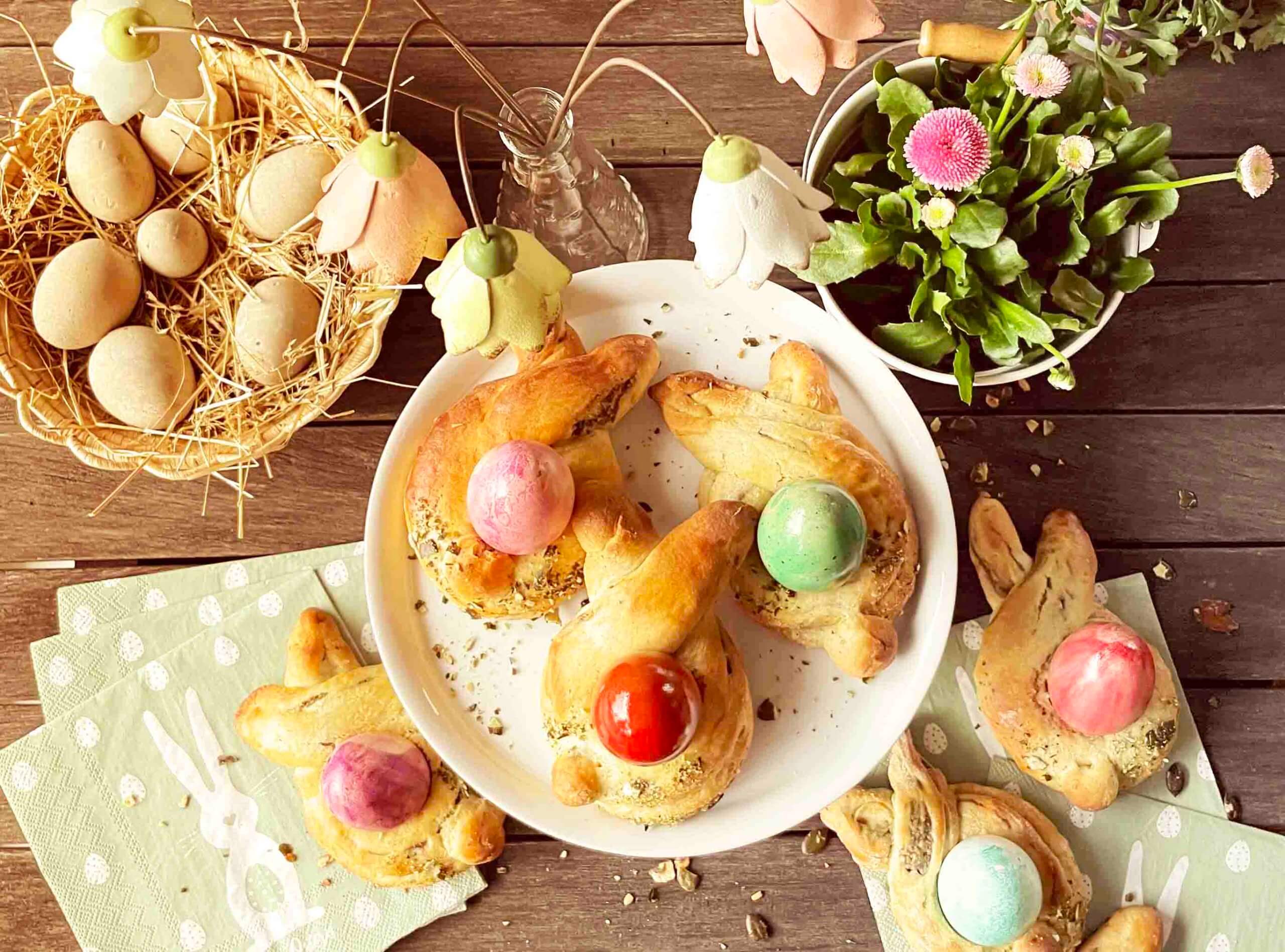 Print
Yeast Easter Bunnies
Ingredients
For the dough:
500

g

flour

90

g

butter

1

sacket

dry yeast

90

g

sugar

250

g

milk

1

egg
For the filling
150

g

ground pumpkin seeds

20

g

pumpkin seed flour

125

g

milk

2

tbsp

honey

2

tbsp

rum

1

tsp

cinnamon
>> Webshop
Instructions
For the dough mix all the ingredients well and knead until you have a smooth dough.

Cover and leave for one hour.

In the meantime prepare the filling: Heat the milk. Remove from the heat and stir in the remaining ingredients and mix well. Set aside.

When the dough has doubled in volume, continue. Roll out the dough on a floured wooden plate. It shoul become a rectangle. Then spread the filling on the half of it.

Fold up the dough, the filling is in between, and cut into strips. Make the ends of the strips a little more pointed - for the ears - and form an "O" with ears.

Press an empty egg shell into the opening as a placeholder so that the space for the colored egg does not disappear during baking. Let rise again for 1/2 hour before baking.

Bake in a preheated oven at 180°C for 20-30 minutes
Notes
Do you want to have warm and fresh Easter bunnies in the morning?
Then prepare the Easter bunnies in the evening. Then place the finished yeast dough Easter bunnies on the baking tray lined with baking paper and let them rise for 1/2 hour.
Put the baking sheet in the fridge.
The next morning, first take the yeast dough bunnies out of the fridge and preheat the oven.
Bake at 180°C for 20-30 minutes.