PUMPKIN SEED OIL – THE ORIGINAL FROM STYRIA, AUSTRIA
And that's exactly how it tastes.

All natural and cold pressed from roasted pumpkin seeds.

PURE INDULGENCE WRAPPED UP IN ONE COLOUR
pumpkin seed oil green
Enjoy the extraordinary taste of Styrian pumpkin seed oil, relax and unwind
Pumpkin seed oil has close ties with Austria's Steiermark, just like the two of us (Ulrike and Guntram). Looking to bring some traditional Styrian cosiness, conviviality and warmth into your everyday life? Our pumpkin seed oil will do the trick.
Close your eyes, smell the wonderfully nutty aroma of the pumpkin seed oil and let your mind travel to Styria. Pamper yourself and your guests with the extraordinary taste of pumpkin seed oil, bringing to mind toasted black bread crust. 
Excellent quality in third generation: Our Styrian pumpkin seed oil PGI has been awarded for its quality, taste, ingredients and presentation 22 times in a row.
Guided tour for families, school and travel groups
Nature gifted us the ingredients – we get the best out of them. We press our pumpkin seed oil lovingly by hand every day using traditional methods.
 
Learn about this fascinating process from pumpkin seed to pumpkin seed oil on a guided tour followed by an oil tasting.
Interested in the production of pumpkin seed oil and want to learn more?
Your opportunities to work with us and enjoy our delightful pumpkin seed oil
Looking for a reliable partner to get the best out of your pumpkin seeds or other seeds?
Someone with the special touch and years of experience?
From storing the seeds to pressing and bottling the oil: we offer everything under one roof.
Or do you grow your own pumpkin seeds and are looking for a partner to sell them to regularly?
In search of something special for your shop?
Or would you like to offer your guests good quality so that they become regulars?
We are known for our award-winning Styrian pumpkin seed oil.
But you can also find other specialities in both household and catering sizes with us.
INDULGE IN THE GREEN WORLD OF PUMPKIN SEED OIL
Not only our Styrian pumpkin seed oil has deep roots here in Styria – we do, too!
Our heart beats green.
We, Ulrike and Guntram, lovingly produce one of the best Styrian pumpkin seed oils.
Our dream: To let the difference between your average pumpkin seed oil and our absolutely amazing Styrian pumpkin seed oil be noticed all the way to the last corner of the world.
Ready to get to know us some more?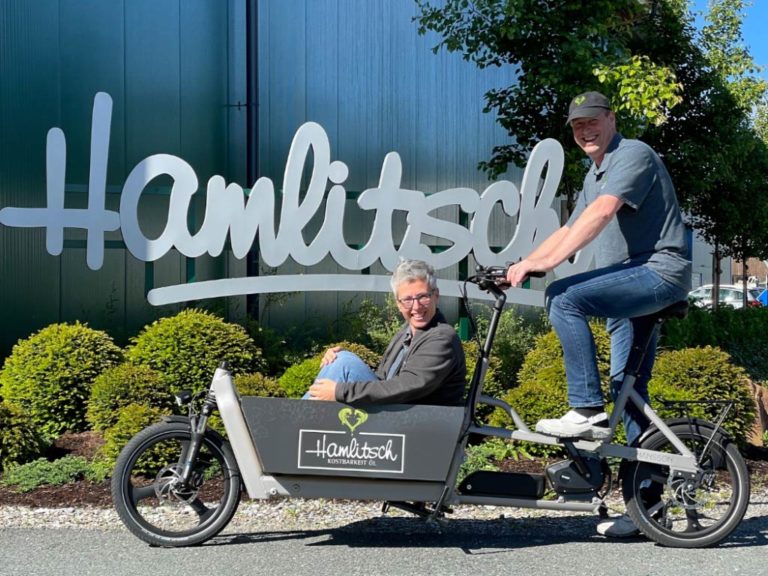 What our customers have to say about our
"A few years ago I intuitively picked your pumpkin seed oil from our local supermarket's shelf. I'd never tried it before.

I had tried other Styrian pumpkin seed oils though, at restaurants or friends' houses.

This is my favourite and the absolute best Styrian pumpkin seed oil that I've ever had. It's a must in my kitchen and there is NO alternative, because it really tastes that good.

The taste reminds me of holidays, romance, nature, sensuality, indulgence.

I use it 1-2x a week, preferably on raw turnip, as a soup topping, with vanilla ice cream.

Of course I also gift it to others. As it's my favourite and my nearest and dearest only get the best of the best from me."
"As a Styrian myself I ran into your pumpkin seed oil many years ago. Of course I've tried many pumpkin seed oils, but your oil is in a class of its own.

When enjoying Hamlitsch pumpkin seed oil I think of my home – the Steiermark and childhood memories of trips to western Styria in autumn.

What's special to me is the delicate, harmonious, nutty flavour. You can taste the heart and soul, the passion and enthusiasm that has been put into this product.

Salads prepared with Hamlitsch pumpkin seed oil cannot be beat. But I also make cake or ice creams with your pumpkin seed oil. I use it almost daily in my kitchen at Herzgruen and also sell it in my shop.

The most important reason is the superb quality and authenticity of the product. This is pure Styria for me and when I as a Styrian offer gifts, I prefer those that I associate with my homeland and that I particularly value myself.

That is the case with Hamlitsch pumpkin seed oil."
"Oil tastings with different producers on a regular basis led me to discover your pumpkin seed oil. Its quality has been consistently top-notch for decades now.

I use your pumpkin seed oil almost daily for salads, sometimes scrambled eggs and some sweet dishes.

Tasting your oil makes me think of a toasty aroma and nutty flavour with a hint of warm pork lard in a positive sense.

It makes a wonderful gift or souvenir all around the globe.

When I travel internationally, I always have pumpkin seed oil with me. It needs to be the best, as it's supposed to be a culinary calling card for the region."

For connoisseurs like yourself: discover your personal favourite recipes on our blog.
To make sure you actually use your Styrian pumpkin seed oil after your holiday in Styria and treat your family and yourself to some culinary delights featuring our delicious pumpkin seed oil.
Become part of our community of connoisseurs and subscribe to our newsletter.
Projektbeschreibung: Neubau Lagerhalle und Zubau Flugdach